Sunlu S8 Pro (FDM/FFF)
260.00 €
🚚 3-7 Days Delivery – All Europe
Net Weight: ≤12kg
CE FCC ROHS
Certification: Yes
Printing Size: 310x310x400mm
Printer Size: 600x490x600mm
Connecting: TF card, PC (USB)Printing
Speed: 20-100mm/s
Hot Bed Heating
Temperature: 0-100℃
Power Specifications: 115V/230V AC,50/60HZ
Nozzle Specifications: One nozzle, 0.4mm (compatible: 0.4mm-0.8mm)
Description
Sunlu S8 Pro (FDM/FFF)
Technical Specifications
Net Weight: ≤12kg
CE FCC ROHS
Certification: Yes
Printing Size: 310x310x400mm
Printer Size: 600x490x600mm
Connecting: TF card, PC (USB)Printing
Speed: 20-100mm/s
Hot Bed Heating
Temperature: 0-100℃
Power Specifications: 115V/230V AC,50/60HZ
Nozzle Specifications: One nozzle, 0.4mm (compatible: 0.4mm-0.8mm)
Key Features
Large Build Volume. SUNLU latest FDM 3D printer S8 Pro, 310x310x400mm printing size, no need to print items in batches, save time, facilitate printing more large pieces, big size creates infinite possibilities.
Silent Motherboard. SUNLU's upgraded printer comes with a new silent motherboard and a stable high-performance drive motor, it can effectively reduce noise, no excessive noise during printing.
Quick Installation. S8 Pro is a pre-assembled printer, just fix the gantry and start printing. Disassembly is also simple, it's convenient for users to upgrade and build their own printers(open source).
High Compatibility. SUNLU's new version printer S8 Pro is compatible with many kinds of FDM printing filaments in the market, including PETG, ABS, TPU, Wood Fiber, Carbon Fiber, PLA filament, etc.
Filament Run Out Detection. The fear of getting failed print while creating objects of large size won't be a fear while printing with this printer. Sunlu S8 is equipped with filament run-out detection which would ensure that you do not overestimate the amount of filament you have or need for making an object and ultimately wind up with a failed print because your spool ran out. S8 has a filament sensor that would display the condition of filaments that you employ for making various geometries.
Power Loss Resume Function. In case you encounter a power outage while the 3D printing process, you do not need to worry whether your work progress would be saved or not! Thanks to the power loss resume function in Sunlu S8, you will be able to restart a print from where it was cut off during the power outage and this is a key tool for making sure your hard work doesn't fail.
Three-axis Stop. The most prominent printing feature of Sunlu S8 is the three-axis stops that limit the movement of the print head, thereby keeping it incredibly stable. The dual-Z system of the printer stays fully in sync, adding to the bed-leveling capabilities. The stiff frame, wire encasement, and power supply cover and keep the power mechanisms from throwing off the accuracy of the printer head.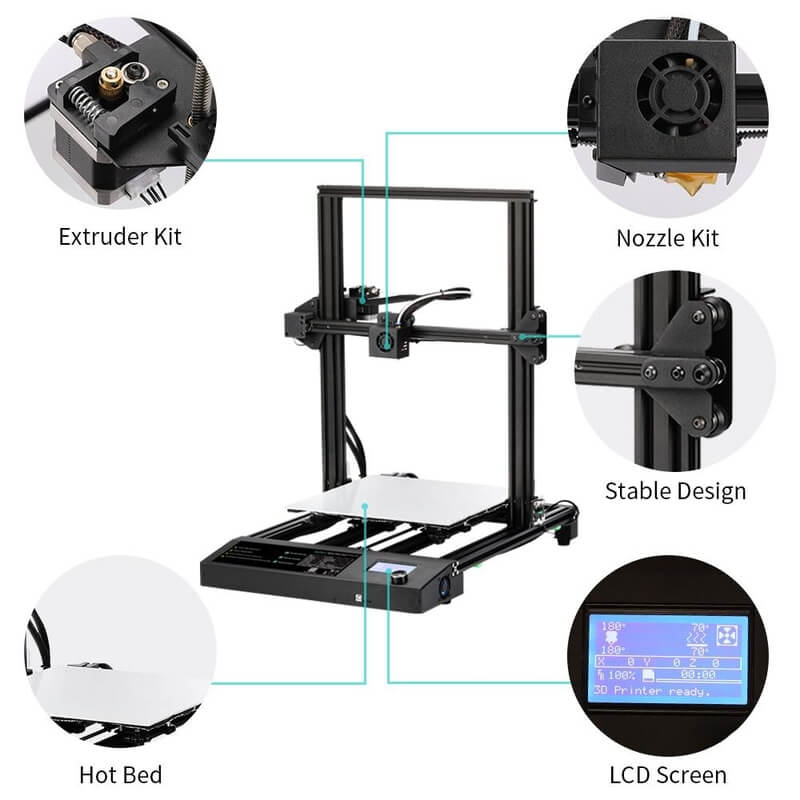 Additional information
| | |
| --- | --- |
| Brand | SUNLU |
| Print Volume (mm) | 310 x 310 x 400 mm |
| Printing Materials | PLA, TPU, ABS, HIPS, PETG, Wood |
| Technology | FDM/FFF |
| Printing Volume | 38 Liters |
| Print Speed | 100mm/s |
| Max. Extrusor temperature | 250ºC |
| Max. bed temperature | 100ºC |
| Layer height | 0.1mm |
| Auto-levelling | No |
| Enclosed | No |